Why Meek Mill Is Speaking For 'The Voiceless' On New Album 'Championships'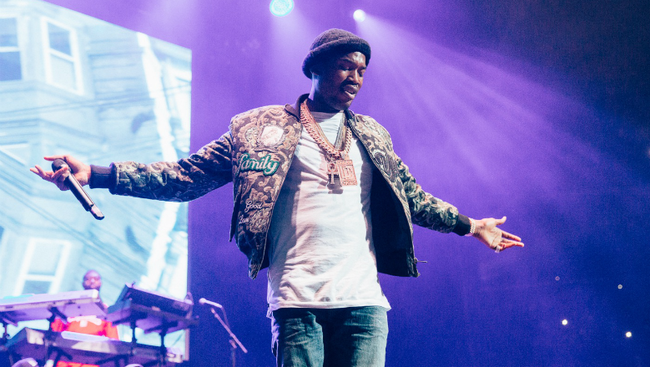 Meek Mill is very aware of the hype surrounding his new album, Championships, his first LP since the rapper was released from prison in April. In fact, it might be why the rollout to the 19-track set went from being a surprise to a slow and steady trail of nuggets. But Meek deserved to drop the project how he wanted and when he wanted. After all, the just-released collection takes the Roc Nation signee's criminal justice advocacy to a wave of eager ears and, ironically, he isn't entirely free from the system just yet. He is, as of now, on probation until 2023, about 16 years after his first arrest, making his newly-refined perspectives about the ghettos of America even more intriguing to hear.
Beyond the context of the LP, the project also boasts a number of high-profile collabs with Cardi B, Future, Rick Ross, frenemy-turned-friend Drake and many more. He even scored a verse even JAY-Z after dropping a subtle request on this summer's "Stay Woke," but the team-up is making headlines for other reasons as Jay targets President Trump — not Kanye, if you haven't caught up yet.
Earlier this month, iHeartRadio spoke to the comeback kid about the highly-anticipated project, his learnings about the criminal justice system and why he feels like he's in the prime of his life. Scroll on below to listen to some of Championships and read our Q&A with the Philly-bred MC!
Championships is the name of the new album. What has been your biggest win in making this LP?
I feel like my biggest win with making this album is actually being able to make this album 'cause this last year I had a two to four-year sentence and basically, I got out. I feel like I could have been in jail right now, but instead, I'm out pushing out this hot sh*t.
The title of the project dictates a different tone than 2017's Wins & Losses EP since you're just citing championships. How did the theme of this project come about?
I feel like I'm in my championship stage in my life. I made it through poverty, the system, gun violence in my neighborhood, racism, and I made it through all them stages in my life. At this point, I feel like I'm at the championship stage, so you know I named my album Championships.
With all your recent work with criminal justice reform, how does this album reflect your advocacy?
I just feel like I gotta speak my piece and really bring light to the voiceless, the people that don't have no voices. I always been rapping about these type of things but I feel like people [are] listening to me on a different [level with] their ears open more wider. I think they were taking some of the things I said more serious. I'm still always speaking for the voiceless, which I've always been doing.
It seems like poignant messaging and, ultimately, your truth will drive a lot of this new music. Was it difficult to realize that part of your gift involves such a high level of responsibility to speak for those who can't?
No, I don't look at it as a big responsibility. I look at it as somebody who's in a position to actually say something. Before, it never felt like this was the wrong thing when I was going to prison for petty things, and not even committing crime. But as I grew and seen more in life, I started dividing myself and realized that this wasn't normal, so you know I felt like I should have spoke up for the people who don't have no voice to speak up.
Bangladesh recently teased a team-up between you and Cardi B on Instagram. What can you tell us about those rumors?
Yeah, me and Cardi B, definitely, we got some hot shit produced by the legendary Bangladesh. We just doing what we do, spitting that flame.
In the letter you recently penned to yourself, you said kids everywhere depend on your rhymes for representation. What is the most important message you can provide to youth who might go through what you've experienced?
The most important message I can provide to these kids is really chase your dream because I remember at one point in my life people said you could be anything you wanted to be and I didn't believe them. My life was so dark and caught up in the streets, poverty, and things and such. I didn't believe there was nothing else but jail or death because that's all I ever witnessed and seen.
This conversation has been edited for length and clarity.
Photo: Rachel Kaplan for iHeartRadio